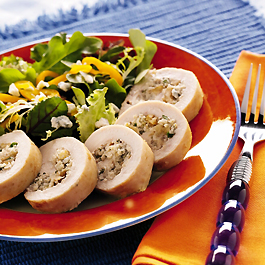 Courtesy of Wisconsin Milk Marketing Board
Servings: 6
Prep Time: 20 Min.
Cook Time: 25 Min.
* 6 boneless, skinless chicken breast
* 4 oz. Wisconsin Blue cheese
* 3 oz. Wisconsin cream cheese, softened
* 2 Tbsp. walnuts, chopped
* 3 Tbsp. dry breadcrumbs
* 1 Tbsp. parsley, chopped
* 1/2 tsp. pepper, or to taste
* 1/4 c. flour
* 2 Tbsp. butter
1. Preheat oven to 375°F. Place each chicken breast between two sheets of wax paper and pound to 1/2-in. thickness, being careful not to tear the paper.
2. In a medium bowl, combine Blue cheese, cream cheese, walnuts, bread crumbs, parsley and pepper; blend thoroughly. Place 1/3 c. mixture on one side of the chicken breast. Roll breast to enclose the filling; secure the breast with toothpicks. Repeat process with all of the chicken breasts.
3. Lightly flour the chicken breasts. Sauté the breasts in butter until golden brown. To finish the breasts, bake for 20 min. Remove breasts and let rest 5 to 8 min. Remove toothpicks, slice and serve.